A Parent's Guide To the Fourth of July 2018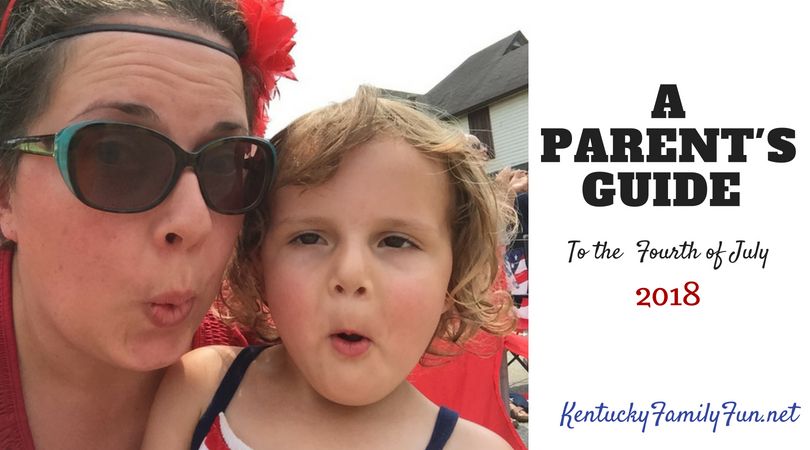 Proud to be an American parent grappling with how to raise young children in 2018.
Like most parents, I am juggling many metaphorical balls this summer. On top of trying to structure my kids' summer vacation while managing Kentucky Family Fun, I am also trying to complete a certification in Project Management from Western Kentucky University, which involves intense study and nights of cramming. Why would I do that to myself? Well, committing to the class was a purposeful attempt to hit the reset button on our family's life after 12 years of being tethered to a corporate life, which tended to dictate everything to us, and ultimately resulted in an unworkable situation and job loss. I know it is not a unique story. If you have had a similar experience, I would like to offer my deepest sympathies and encouragement to keep persisting.
As the temperature rises this summer, so do our tempers. Thankfully, the PMPBOK Guide (that is the textbook I am using) recommends the following techniques to resolving conflicts: Withdraw or avoid (the weakest technique), smooth and accommodate (find areas where all parties agree), force and direct (basically be a dictator – a morale killer) and collaborate and problem solve.
In the process, I have taken away some really important life lessons from my studies. For instance, what do you think are the leading causes of conflict, in general? In the project management world, there are four primary ones, including; scarce resources, priorities, schedules, and personalities. Does that sound familiar? I know it does for our family. Scarce resources being parents' attention. Priorities easily include pulling kids away from electronic devices. Scheduling being our typical lack of one. And then, there are personalities. How do you get your kids to stop fighting!?
All I can ask myself is: why don't we get a PMPBOK Guide to parenting when we bring our first child home? For years, our family has taken withdrawal and avoidance to another level. I am sure you know what I mean because after the 10th time your child has said "mommy" in the course of one breath, you start to tune their sweet voice out.
Bottom line, the PMPBOK Guide strongly recommends that to resolve conflicts, you have to confront them. So we did. We had a family meeting today after a typical family scene: Kids were anxious. They wanted to go to the pool, which had been vaguely promised. Dad wanted to finish watching the World Cup game. Pool noodle fighting ensued. Multiple admonishments to quit were strongly given and ignored. Tension escalated, and finally mom loudly lost her temper because she was trying to finish her coursework. Ironically, I was studying conflict management.
We don't have to go into many more of the details, but basically, I advocated that we confront the situation as a group in a sort of airing of grievances. The result is that we are working on just one thing for the next week, which is that we are going to spend the next week showing each other respect.
Respect. Something in short supply these days, it seems. I am deeply troubled by the current mood of our country and what role I can play both individually and as a mother. I have listened to calls for confrontation, which in many instances, is justified. But as the project management guide prescribes collaboration and problem solving, I also see value and wisdom in mutual respect. So what do I do? I am trying to teach my children to solve conflicts at home but I also know that I have to model that behavior as well.
With that in mind, I wanted to share with you my family's independence holiday itinerary, hopefully, I still need to register for one event. These activities have been chosen not just by me but also through a collaboration with my family. Hopefully, these events will give us an opportunity to field questions from our children about how they can be a part of the solution and not the problem both at home and in their country.
Smooth and Accommodate
June 30 | 2018 Lexington Pride Festival | 11am – 10pm | Lexington
With a mind for finding commonalities with other Kentuckians and things we can all agree on.
Withdraw and Avoid
July 3 | The Sweet Shoppe Dessert Cafe | TBD | Hodgenville
Heading out for a country drive and to explore around Elizabethtown to get some quality time as a family because sometimes you need to shut out negativity.
Force and Direct
July 6-7 | Happy Independence Day Festival | Independence
Definitely going to check out their parade which runs Summit View Middle School to Memorial Park. Looking to seek out veterans and discuss the prices paid for our freedoms.
Collaborate and Problem Solve
July 10 | Family Workshop: Sit-Ins, Marches and Boycotts | 10am – 12pm | Kentucky Historical Society
With the hope of learning more about what issues my children care about and how I can help them make a difference if they want to be involved.

Looking for other ideas for the Fourth of July? Here are some suggested events around the state. Nicole