Family Activity Center in Shelbyville – Great indoor or outdoor swimming spot for families!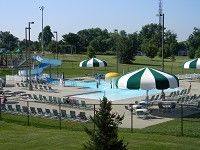 The Family Activity Center at Clear Creek Park in Shelbyville offers one of the best indoor/outdoor pools for families with young children close to the Louisville Metro area. The outdoor pool offers a zero entry side with water sprayers, a kiddie Frog slide and a larger water slide for older children and adults. The pool is small enough that you can see your children wherever they may be in the pool. This is a particulary great pool for families with children in the 0-10 age range. Indoors, you will find a lap pool, diving boards and kiddie pool with slide.
The Family center is surrounded by a park with a play area, walking trails and picnic areas.
Day entry for adults is $6, children are $4 and 2 and under a free.
For more information, please visit http://www.shelbycountyparks.com/FAC.html
Jennifer
courtesy of LouisvilleFamilyFun.net