Let's Go Hiking Kentucky
Don't be tempted to stay indoors this year.  Get outside and explore!  Take off on foot and immerse yourselves in Kentucky's natural beauty.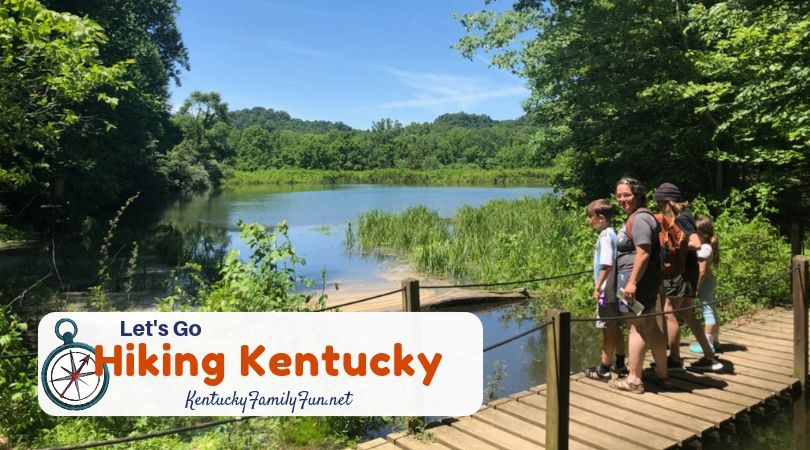 With families in mind, we have compiled a short list of recommended family hikes around Kentucky. Whether you are looking for a no-fail trail to introduce your child to hiking or just for a quick stroll with your family's best friend, this list is a good place to start.  This is by no means a comprehensive list, but they are hikes recommended by Kentuckians who are passionate about our commonwealth's natural resources.  


Family Friendly Trails: 
Listed in order of easy to strenuous.  
Bernheim Arboretum and Research Forest | Rock Run Loop | Central Kentucky | Bullitt County
Always be practice safety in surface water, but as streams go the creek this trail follows is shaded and pretty safe.  You will find watering holes that children can play in.
Kingdom Come State Park | You can walk or drive up to the overlooks | Eastern Kentucky | Harlan County
All trails are under a mile long.
Cove Spring Park | Central Kentucky | Franklin County
3 miles of trails, a mile of which is accessible.
Shaker Village of Pleasant Hill | Heritage Trail | Central Kentucky | Mercer County
Take a right downhill off the Heritage Trail to view the remains of the Shaker grist and lindseed mills.  This hike will lead you to Shawnee Run Creek and when the water is low it is safe to explore.
Menifee County Park System | Broke Leg Falls | Eastern Kentucky | Menifee County Park
Don't be afraid. Go and learn where the name comes from.
A beautiful sight to behold but more so during wet seasons.
Carters Cave State Resort Park | Natural Bridge Trail | Eastern Kentucky | Carter County
A half mile trail that is easy to walk is considered to be uniquely Kentucky.
Red River Gorge | Rock Bridge to Creation Falls | Eastern Kentucky | Wolf County
This trail is a little over a mile.  It does not meet accessibility standards but is a moderate paved walk.
Central Kentucky Wildlife Refuge | Bluebird Trail to Deer Trail to Woodland Pond Trail to Brooks Hollow Trail and back | Central Kentucky | Boyle County
These trails can be explored until you and your family are ready to turn back.  However the further in your explore the more beauty you will uncover.  Make sure you wear your muck boots.
Jackson County | Flat Lick Falls | Eastern Kentucky | Jackson County
This property is under development but is a moderate half-mile trail to a unique waterfall.
John B. Stephenson Memorial Forest | Anglin Falls | Eastern Kentucky | Rockcastle County
The foot trail to the base of the falls is about a mile in length and is moderate to strenuous.
Daniel Boone National Forest | Lower Dog Slaughter Trail #414 | Eastern Kentucky | Whitley County
Dog-Friendly (I swear). Approximately 2.4-mile round trip.


Guided Hikes:

Guided Hikes at the Pinnacles | Every Tuesday, Fridays, and Saturdays at 9am
Trail difficulty decided by the group of hikers.
Special Thanks to the following contributors:
Kentucky Waterfalls, Arches and Landscapes – Facebook Group