Neon Nite 5K in Simpsonville & After-Glow Party!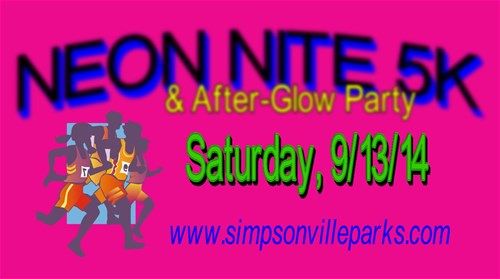 Does your family or friends love these types of events? Why not participate in one that helps support local parks in small town Kentucky- Simpsonville Parks and Recreation in Shelby County.
The NEON NITE 5K is a nighttime run, walk & stroller roll for participants of all ages, abilities and levels. That means families too!
It's a great nighttime experience without focusing on how fast you can run, walk or stroll a 5K.
This unique experience caters to the serious, average, beginning runner, walker and stroller.
It's all about the GLOW!
Come dressed in glow gear or not – it doesn't matter, because your race entry includes TONS of glow swag.
You can also be there just to GLOW! During the 5K try GLOW ZUMBA or rock out at the GLOW PARTY during the race.
There's something for everyone!