Visiting Pulaski County Park – a beach swimming location on Lake Cumberland
Visit Pulaski County Park Beach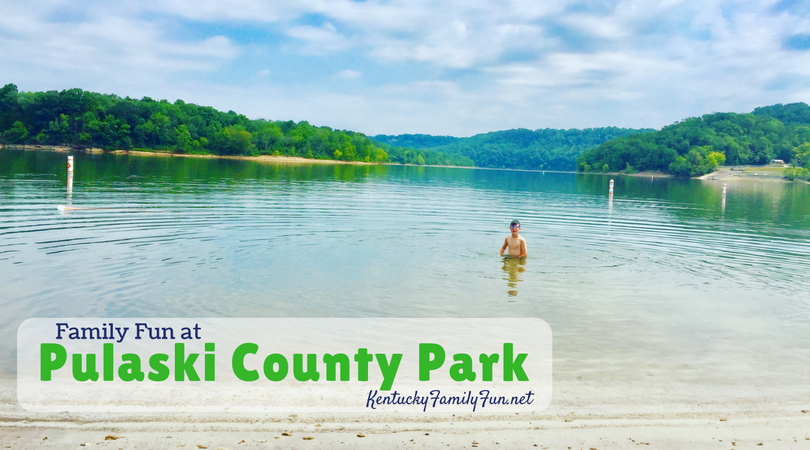 Pulaski County Park Beach offer a great lake getaway for a day or more, fun summer activities for families. 
Pulaski County Park is conveniently located off of Rte. 80 in Nancy, Kentucky. This park is on Lake Cumberland in the Somerset area. The park offers an array of options for people who are looking for a day visit or for folks looking to camp or have a gathering.
What attracted us to visit Pulaski County Park is we were told that there was a beach area and when traveling with kids ages 2 to 10, that's a perfect option.  The beach was added in 2017. The beach area is easy to find in the park if you keep going right as you enter the park.
Unfortunately, the beach is closed for 2023 per the park website
There is ample parking but it's important to notice, there are no bathroom facilities at the beach area. You must cross the parking area and go up a hill to portable bathrooms at the top of the hill. It wasn't too much of a hike but with little kids, that's important to know. And, the portable bathrooms there were very clean.
There is one large tree on the Pulaski County Park Beach so we were able to grab that spot for the day to have some shade. There are a few picnic tables and a grill in a shady are closer to the parking lot. We brought in chairs, floats and our picnic items and spent hours at this beach. 
There are rocky spots close to the shady area but as you go toward the middle of the Pulaski County Park Beach, it's more sandy.  The kids loved collecting rocks and then at the end of the day, swam them back into the lake to sink to the bottom.
Also at the park, there are camping options (less that $80 per night – prices subject to change) for any level of camping and there are also cabins. We drove around and found a wonderful trail if you are interested in hiking or biking that trail, many picnic shelters that would be great for groups, a playground, basketball and more activities.
The park has quite a bit to offer and we did notice a lot of people camping, fishing and kayaking. The kayaking looked great because of where the park is situated, folks can go in and out of coves in Lake Cumberland.
The park is open dawn to dusk for visitors. They have a small store at the entrance in case you need some fishing supplies, snack or a drink. The folks in the store were also helpful for fishing tips and other information about the park. That store is open normal business hours, not the entire time the park it open.
We noticed that the park utilizes an inmate program to clean the park. We had no problems at all but we did notice that they work on the beach in the morning so if you arrive later in the morning and stay for the afternoon, they will likely be finished with their work.
Pulaski County Park Beach is so close to many things to do. If you stay at Pulaski County Park, you won't be bored! Also, it was just down the road from Haney's Appledale Farm which we really loved for treats. 
Find even more things to do in Central Kentucky by clicking HERE