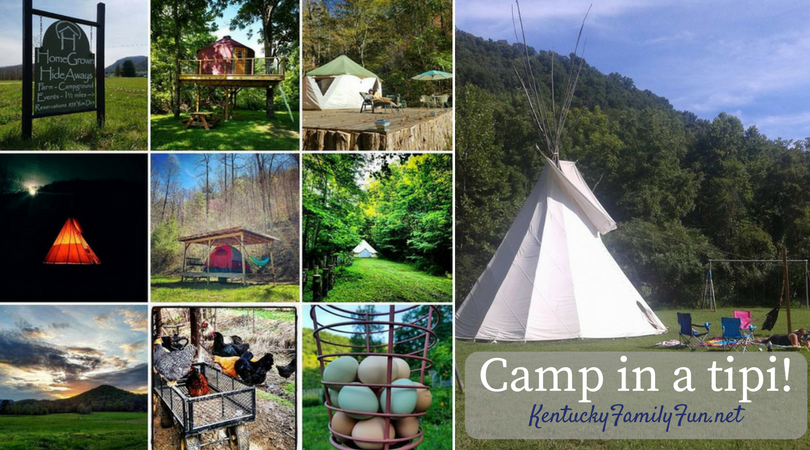 Looking for a few days away from it all but close to home? Love nature but don't want to deal with packing a car full of camping gear for just a day or two getaway. Try out
Homegrown Hideaways
just outside of Berea, Ky.
Homegrown Hideaways is located in a beautiful valley (holler) with a small creek running through a big wide open field surrounded by lush forests and knobs. We spent an overnight on our way home from Red River Gorge at Jessa and Nathan's beautiful home in the foothills of the Appalachian forest. Homegrown Hideaways is a working farm and member of the National Forest Stewardship program and they have just begun offering "glamping" on
airbnb
. They offer completely kitted out options such as a treehouse and a yurt, as well as some more rustic options in a bell tent or our choice a 24 ft tipi. You may also pitch your own tent or bring an RV- they have hookups.
The Tipi was
amazing
- for the kids and us grownups- the idea of sleeping in a tipi was pretty exciting. The construction of the tipi itself is fascinating and the fact that you can safely build a fire inside makes us want to return in the fall to experience that on a cooler night. We brought a couple of tarps for the ground and airbeds and slept very comfortably. We kept the smoke flaps open overnight hoping to see a starry sky- unfortunately clouds had rolled in- but this gives us yet another reason to return.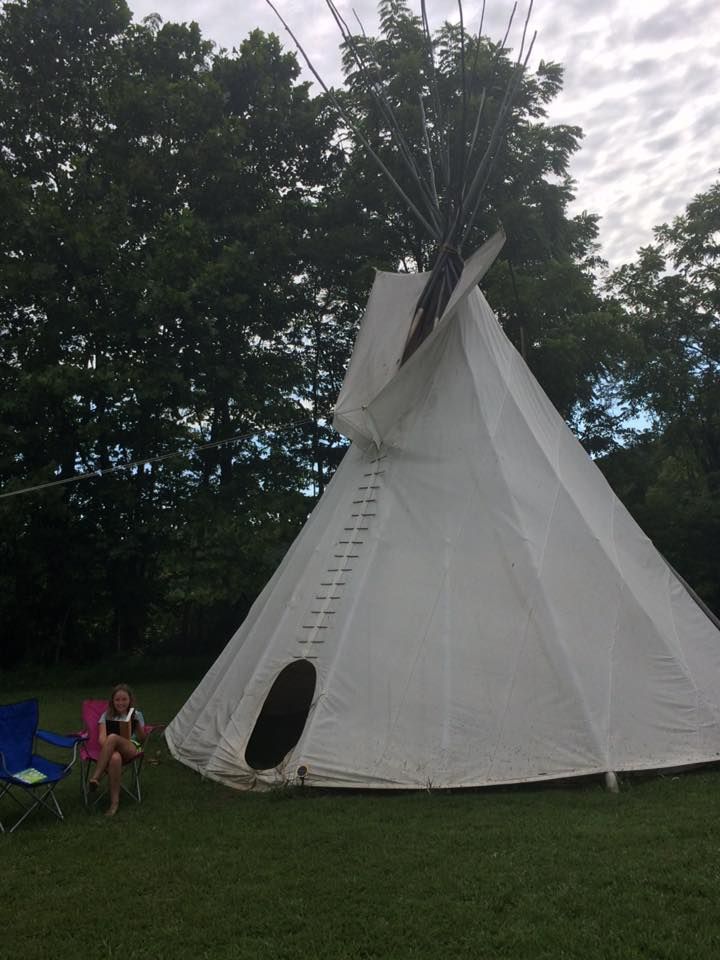 We've camped a lot and came completely over prepared for our weekend. Jessa told me they want to cater to people who have never camped before as well as seasoned campers. Staying in any of the on-site lodgings, you have access to a full kitchen with fridge, oven, coffee maker, sink with hot and cold water and more. We didn't need to bring out our gas camping stove, we didn't need our cooler full of ice, or a table, or plates, or cutlery, no need for pots or pans! The fridge had fresh eggs from the farm. They also have a full and very clean bathhouse with flushable toilets and hot showers, a fire pit, cornhole boards, ultimate frisbee goals, covered picnic tables, a large playing field with swings. The farm also includes a beautiful hiking trail through the woodlands on the property. You can rent canoes for an afternoon on the nearby reservoir. Jessa and Nathan have everything you could need- all you need are your sleeping bags, pillows, and food to cook.
The kids had a blast on the grounds of
Homegrown Hideaways
, playing in the creek, campfires, visiting the chickens, and making friends with the dogs who call this beautiful place home. Jessa and Nathan have been building a new secluded Treehouse with huge windows that will give you amazing views of the landscape- definitely on our bucket list. We definitely recommend you check this place out with your kids, extended family, a great location for a family reunion, or an adult getaway- you even have the option of having your food cooked for you.
For more information visit
www.homegrownhideaways.org.
From guest contributor
Jennifer