Family Adventure Day at Churchill Downs 2015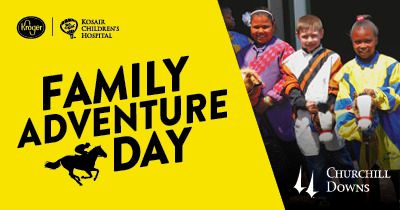 Family Adventure
Day at Churchill Downs
Presented by Kroger
May 17 and June 21
Advance tickets
just $8
Partial
proceeds support Kosair Children's Hospital.
Family Adventure Day at Churchill Downs
Presented by Kroger
The Kentucky Derby may be over, but Churchill Downs is still the place to be – with two special dates for families.
Enjoy a day of races and fun at Churchill Downs and there will be something fun for everyone! There will be 20 kid friendly activities including pony rides, inflatables, a petting zoo, stick horse races, and face painting. Family Adventure Day tickets include access to a family viewing area to watch the races, and a chance for your child to call "Riders Up!" for a real race!
Advance tickets online just $8, but they are$10 at the gate – so definitely purchase in advance.
Stephanie