Haney's Appledale Farm in Nancy near Lake Cumberland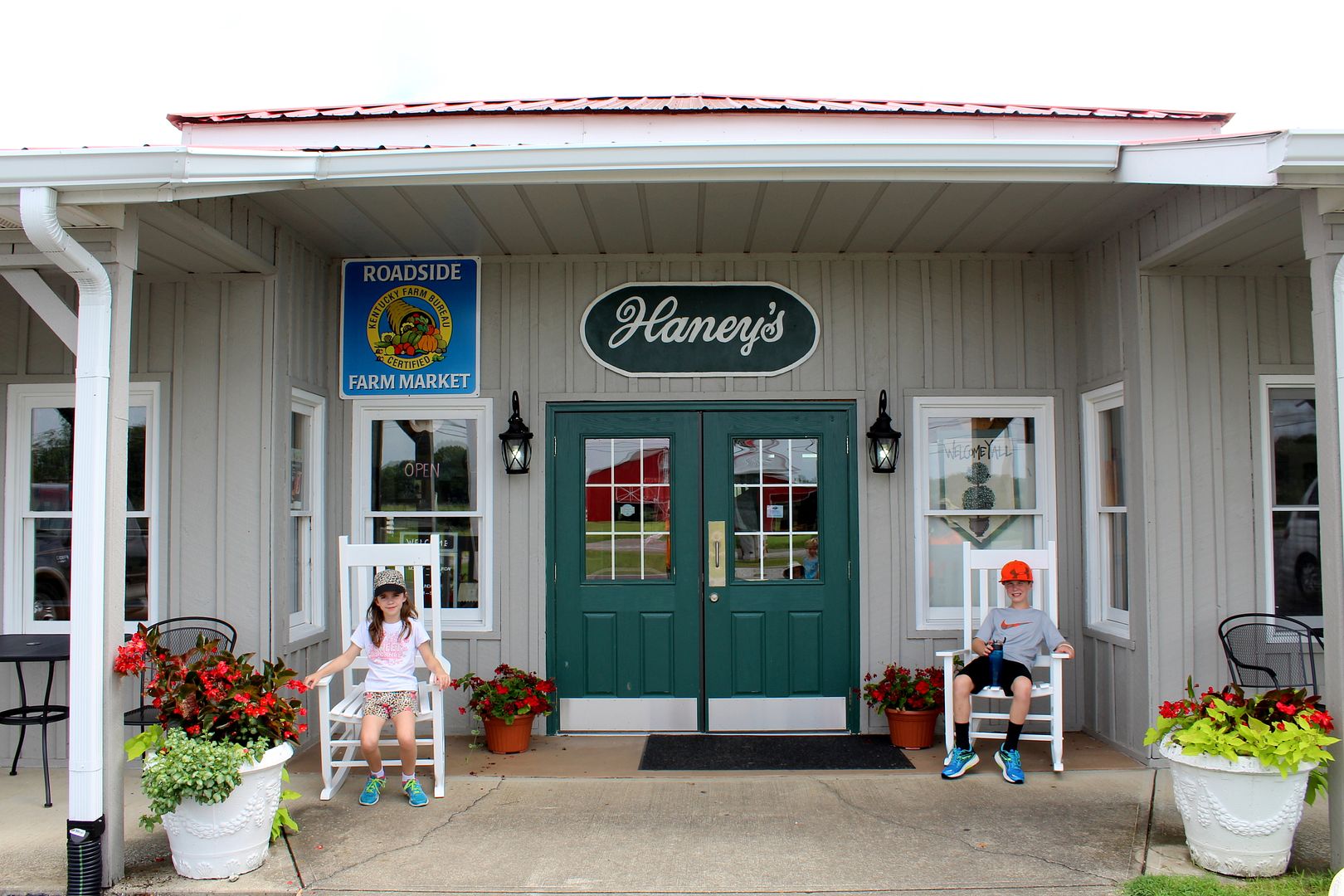 While on a visit to Lake Cumberland, I did my research as usually and found that Haney's Appledale Farm was mentioned numerous times. There are few things that I like better than farm fun (and pie) so we ventured there one afternoon for a treat – I was sold at 'bakery'!
Located on Highway 80, it was really easy to find. It was very close to Pulaski County Park – which we also enjoyed on our visit. The farm store is inviting with rockers out front and a large opening to the farm store on the right side of the building. The kids immediately noticed the play area in the back. Of course, the folks there were just as welcoming. We actually found that some of the owner's grand-kids go to school with mine, we recognized them in a photo!
After browsing for a bit, we decided to let the kids work up an appetite and play. They have a barn-shaped play structure in the back that was just enough for our pit-stop. It had swings, slides and climbing features but mostly, since it was set up like and upstairs and downstairs barn, it lent itself to imaginative play. I liked the view of the orchards from the upstairs part of the play area – yes, I got up there! When we went, it was quite hot so we didn't spend as much time outside as we would have liked. I can definitely see that during the milder weather, families can hang out by the play area more or take their snacks outside for a picnic.
We shopped the market to find local products and lots of their produce – peaches since it was summer. They also grow apples (25 varieties), pumpkins, and pears seasonally. Fall is definitely popular. We took home some peaches before we left our vacation spot. They don't always offer u-pick so check ahead before you go.
The bakery is known for their pies – which are small pocket pies. They make different flavors seasonally and you can order large batches if you need to! They also had muffins, cookies and select lunch items like pulled pork sandwiches. We enjoyed their peach slushies and baked goods – the pies are just the right size to not feel guilty……well, too guilty.
Haney's is open seven days a week, with shorter hours on Sundays. We recommend you follow them on Facebook for farm updates so you know when certain varieties of fruit are ready.