Family Fun & Discounts for the Kentucky State Fair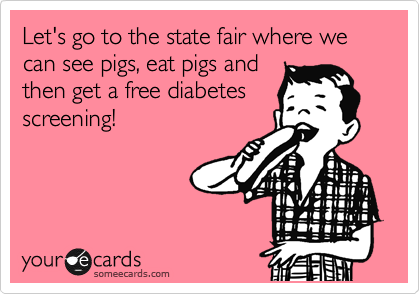 So the Kentucky State Fair starts this week ya'll. I am sure that it was on your radar screen somewhere but now that school is back in swing the weeks run into each other.
The fair runs from August 20th and ends August 30th, 2015.
The fair is pretty awesome, I mean anywhere that you can get fried food on a stick pretty much jumps to the front of the awesome line for me.
I thought that I would break the fair into some easy to navigate categories for you and your family should you decide that you want to head and see how many cows you can count!
Admission to the fair is $10 per adult, kids 6-12 are $6 and kids 5 and under admitted free. Don't forget that you will also need to pay to park and parking is $8.  If you have a large group, the best deal happens on 8/20 & 8/27 when it's carload day and it's just $20/carload for admission + parking!
Some of the free things to do at the Fair : 


Check out all of the various livestock. In the West Wing you will find dairy cattle, beef cattle and Miller's Border Collies
In the Pavillon, you and your kids can visit the poultry, pigeons, rabbits, swine and sheep.
You can always go and check out the beautiful crafts and food that people have made (in the South Wing) but my kids only want to do a fly through while we are visiting the fair. I never have the luxury to really take in the incredible craftsmanship. Perhaps your kids are more patient than mine are.
There are countless daily shows.  See the list here.  Any "Paw Patrol" fans out there?
Some Additional Costs at the Fair: 
There are always rides to ride and games to play at the fair, it is a given. There are some pricing options that you should be aware of.
You can purchase a wrist band for the midway a few different ways:
If you buy them online you can get a discount, you can order them here. Or, you can buy them at Kroger through 10pm on 8/19 and save!  If you are a procrastinator like I am and don't order them online, the wristbands will cost you $25 per person.   They are just $12 for kids under 12 years old that are 56″ tall and under.
You can also purchase individual ride tickets on site as well.
Don't forget to plan on spending some money on the midway games as well. It isn't the fair if you don't try to win a giant stuffed monkey.
Did you know Kentucky Kingdom is right there?  They have a special deal for KY State Fair attendees.
From their website:
Get your Kentucky Kingdom ticket in advance for $9.95 (+tax) at all area Kroger Stores.
Also available at our front gates for $19.95 (+tax).
Kentucky State Fair admission and KEC parking sold separately.
The food vendors will also set you back some change but in my family summer doesn't officially come to a close until we eat a corn dog and a roasted ear of corn.
Here are some past reviews from Louisville Family Fun:
Click here.
And, click here.
And – 4H stuff and FOOD – click here.
Chances are you and your family have been to the fair at least once of twice, so tell me. What do you look forward to the most while you are there?
Allison