Review of Barren River Lake State Resort Park
Barren River Lake State Resort Park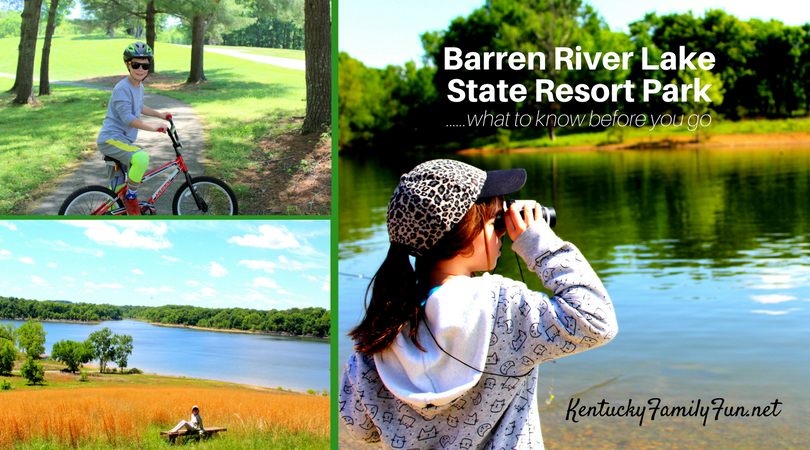 As it's likely clear from our website, we are really interested in promoting all of the wonderful places without Kentucky for families to explore and visit.  We know that plenty of folks will venture far and wide to find family fun on vacation but we hope to show that there's also an immense amount of interesting places and true natural beauty here in Kentucky that make for outstanding destinations.  And, without the cost of airfare and really long drives, it's instantly more affordable.
Recently, we took to I65 to check out Barren River Lake Resort Park.  Here are some details we think you'll want to know and will help you plan your visit.  This map helps show you the layout. You can test a place out and know if it's a great trip when you think…..would I go back?  YES!  We want to go back.  We were there for two full days and one night. I think you need at least two nights to enjoy it and not feel rushed.
Lodging
At the resort park, there are four options for lodging and each of them have different benefits and price points.  The camping, the lodge rooms, cottages and villas – ranked from least to greatest in terms of cost.  We did not tour or experience the camping – so here's a link to more details and reservation info….and a map of the campsites.

Lodge rooms – The distinct benefits of the lodge rooms are there proximity to the pool and lodge and the views of the sunset.  The sunset views are best seen if you have a room in the second building, especially the elevated floors.  Also, the lodge rooms are just enough for what you need if you plan to be outdoors most of the day.  The rooms are clean, have nice balconies and plenty of bathroom space.

Cottages – If you plan to stay a while and want to save on dining, the cottages provide the proximity to the lodge, pool and marina along with a full kitchen, dining and living areas. Also, they have a green space in the middle area that's great for kids and families. These cottages are very much a "home away from home"if you want to spend a week at the lake as there are linens, cookware and space to spread out.

Villas – The villas are the largest space with high ceilings and quite views of the lush greenery all over the lake.  They have two porches and a very open living, dining and kitchen area.  The bedrooms and bathrooms are split between two sides of the villa so I can totally see two families sharing the cost and spending the week at the lake together. Like the cottages, the villas provide what you need for the week. However, these are not as close to the lodge as the cottages and do not have the green space and playground right out the front door but they do have a really nice private feel to them. And, I noticed a small path that leads from the villas down to the beach area through the woods. 
Amenities/Activities
Sports
You can definitely make this an active trip. There is an excellent paved 2.5 mile walking/biking path.  Do bring bikes!  They also have multiple playgrounds for free play and a small indoor gym for weights and cardiovascular workouts.  There are basketball, volleyball, and tennis courts as well as shuffleboard and you can check out the supplies at the lodge.  And, there's a full 18-hole golf course. There's also seasonal horseback riding ($18 per person for 45 minutes) during the summer months. Of course, there is an outdoor pool near the lodge.
Hiking
There are two hiking trails. We hiked the one through the woods and it was a really nice moderately rigorous hike.  We did spot poison ivy (like we do on hikes pretty much anywhere) so be prepared with long pants for hiking!  If you want to try out orienteering, they have that too – we didn't have time on our visit to try it.

Fishing
Remember, you do need a KY fishing license to fish so get one before you go.  They do have equipment to loan out at the lodge. We brought our own and found a cove left of the beach. It was a quaint, quiet spot.
Beach
The beach is open in the summer months and provides a shallow walk in area for swimming in the lake.  It is roped off and there are bathrooms nearby as well. And, if you just want to pop in for a visit, there's no cost to enjoy a day at the beach.  The view from this area is lovely and there's quite a bit of parking.
Marina
While we were there, we did not utilize the marina. However, we did notice that it was really close by for convenience and looked it up online.  You can rent boats for the day or even just a few hours.
Dining

We dined twice at the Driftwood Restaurant and the food was really good both times.  For dinner, we ordered off of the menu though they did have a buffet that tons of people were taking advantage of because it was prime rib (I think).  We didn't want such a huge meal that day.  My husband had catfish, I shared some chicken with my daughter and my son had a burger and fries. Our meal was fresh and just the right amount of food.  The view was lovely as well since the restaurant has windows on most sides and looks out over the state park greenery.  The restaurant offered a kids eat free deal when we were there so that made it very affordable, the same deal applied at breakfast (when ordering off the menu). 
But, at breakfast, we opted for the buffet.  The breakfast was really worth it. We ate so much…..we just skipped right over lunch that day.  They had everything you would want for breakfast and kept close eye on the buffet to refresh items.  Definitely ask the server about specials like kids eat free as those deals might change! 
Glasgow
If you want to venture off of the state park property and explore town, it's really manageable.  There's one main road that goes in and out of the state park back to the highway so you would have a hard time getting lost!
Things we noticed:
It will take you about 15 minutes to get into town.

There's an IGA grocery store on the way to the state park so if you need to stop to load up on groceries, it's very convenient.

Ask the lodge personnel for a list of local restaurants – we noticed a few on our way in and out that looked really good!

There was a shaved ice place on the way in so if you are visiting in the summer months, that would be a fun stop.

We are at Freddy's on our way in and it was a delicious, quick stop that we don't have near home. The frozen custard was wonderful and we loved their super skinny cut fries and special sauce.
There's an indoor fun place called Ralphie's Fun Center. If you have a rainy day during your visit, this would be a good place to check out.  I noticed they have daily specials that are pretty good deals. 
Cave City attractions are not far away. If you are planning an extended stay, it may be worth a day out and about for a cave tour or zip-lining. 
I hope that you will explore the website and check availability for Barren River Lake State Resort Park.  It was very easy to find, offered an array of outdoor activities that all families can enjoy and is more affordable than a jaunt on an airplane looking for water!
Stephanie