Review of Otter Creek Outdoor Recreation Area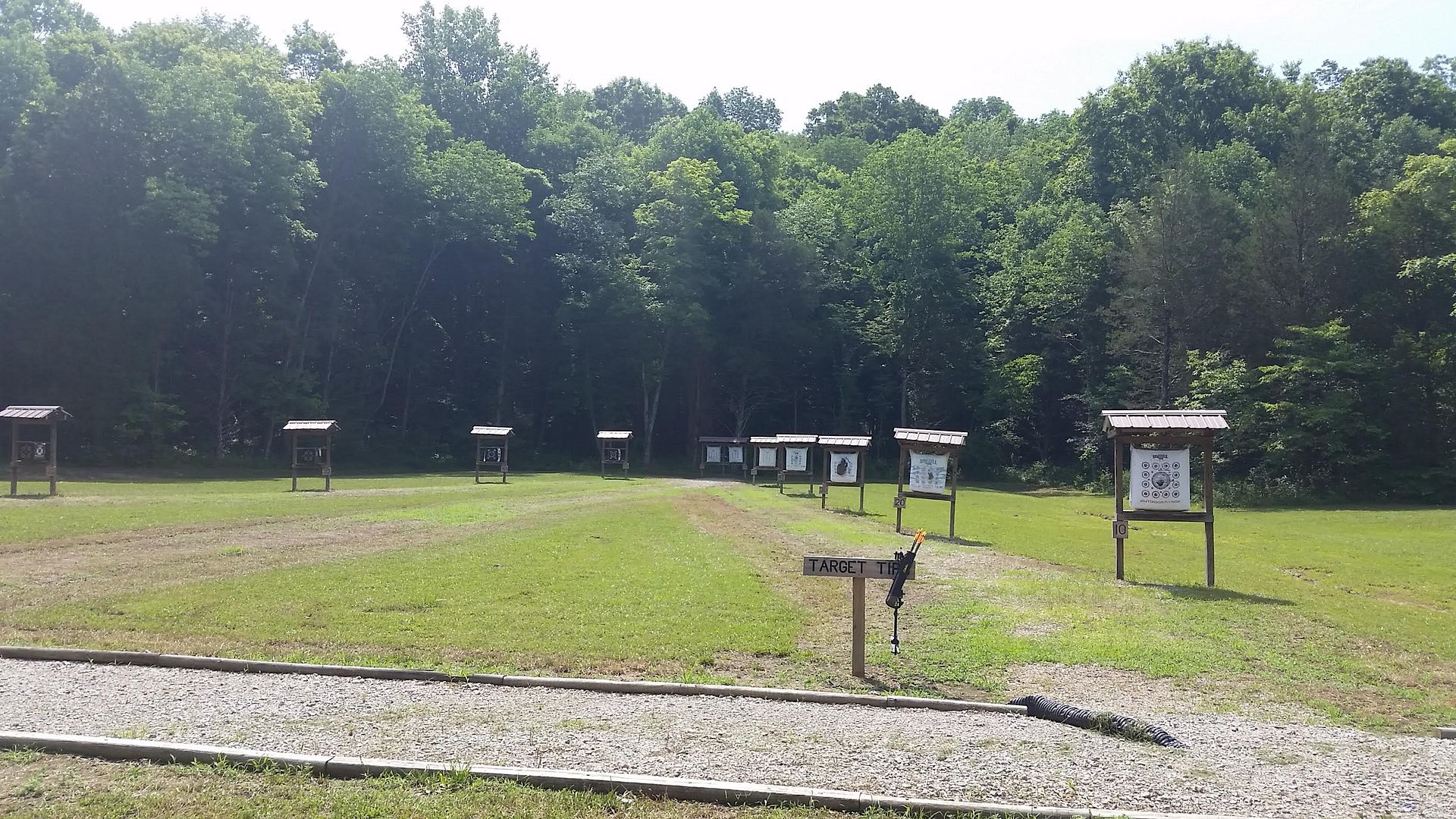 Our family had a wonderful first visit to the Otter
Creek Outdoor Recreation Area,
which is owned and operated by the KY Department of Fish & Wildlife
Resources. It is right on KY-1638 off US-31, not too far off the interstate,
and has so much to offer that it is well worth a drive to spend the day or even
longer!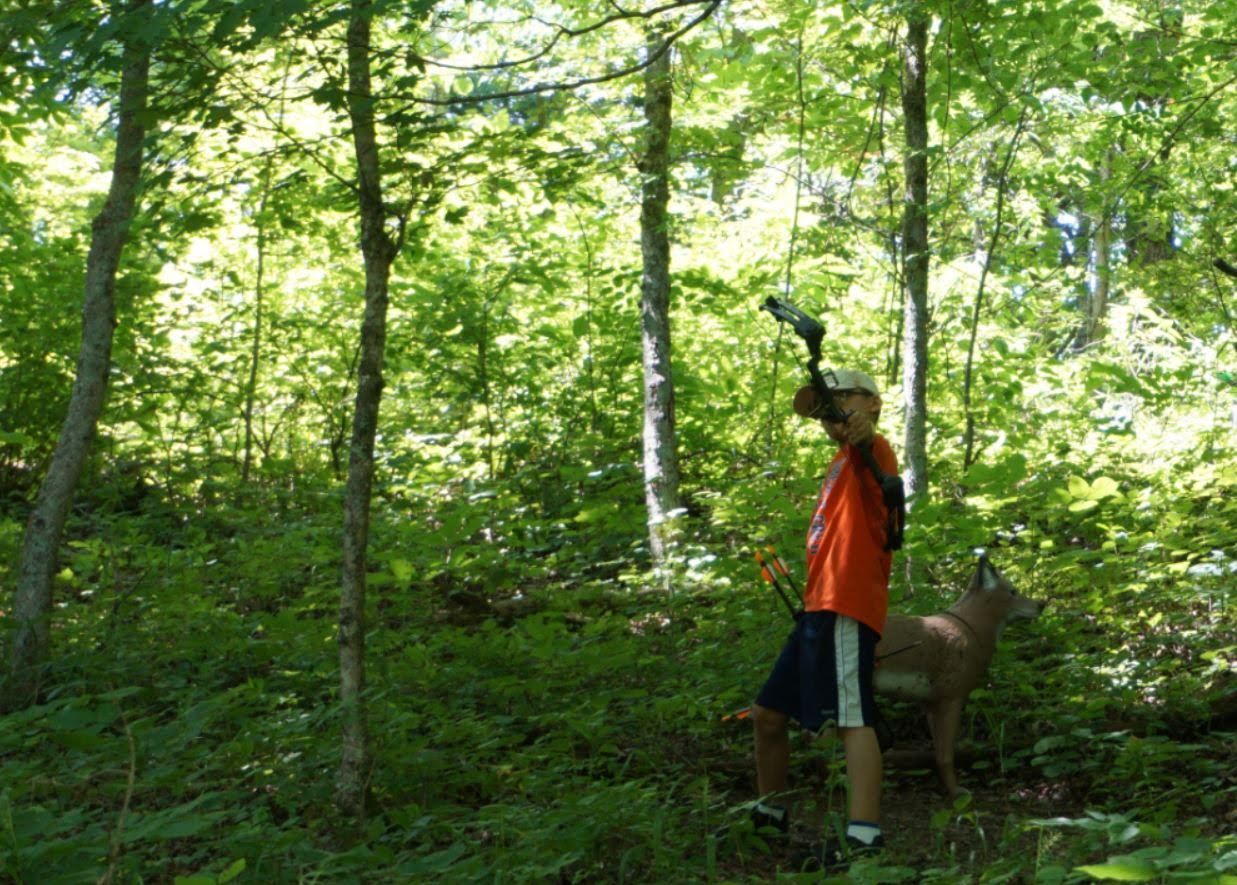 You pick up a map and pay at the main gate, just $3 each person
over 12 years old unless you are using any of the special activities like horse
trails, mountain bike trails, or shooting ranges, which has an additional
charge. Annual permits are available. If you are heading to the range, you
backtrack to its separate entrance, displaying your paid passes on your dash.
The road to that is gravel and a little tricky if you aren't used to country
roads, but very pretty scenery. They offer a traditional archery range for
broad heads and target tips, as well as a really fun 3D range where are
you go into a walking path in the woods and stop at numbered posts for a total
of 30 stops to try your aim at foam animals, like coyote, deer, turkey, and
even bear and mountain lion. You shoot uphill on the left side of the trail and
downhill on the right. We spent a good amount of time searching for lost
arrows, so we plan to buy some light up nocks before we drive out again. The rifle
range is close so you do hear it- you may want to bring earplugs for anyone
with sensitive ears.
We had the pleasure of meeting one of the staff members who was
working on maintaining this big beautiful property. His passion for it was contagious and he was
so informative and friendly. He and others there, including staff and fellow patrons,
were especially encouraging of our kiddo who is just learning to shoot archery.
The nice staff member shared so much information with us that I hope I got it
all correct to pass on to you! They
sometimes offer free archery instruction for kids on Saturday mornings. Call on
Friday afternoon to ask and you get in free to the range during it. He talked
with us about the great trout and other fishing there. They stock the creek
with trout several times a year. There is a sandbar where the stream meets the
river that's good for catching catfish, and a carry down ramp to the Ohio River
for canoes, kayaks, or small boats. Otter Creek Rec Area is the first in the
state that is a hybrid between a park and wildlife area so people do hunt here
according to seasons, but not on the campground or disc golf course. They have
lots of plans to add things, including a pistol pit range and doing a 5-million-dollar
creek restoration with a fill and spill area. The grounds currently have about
20 free geocaches and up to 40 for premium geocache members including earth
caches featuring conservation messages. The geocaches are not sponsored by
the park because some are off
trail. They'd like to arrange a "Cache
In Trash Out" and offer prizes for things like first to find, first to complete
all of them, and the like. This sounds like a great addition to an already
great mix of things to enjoy there!
Otter
Creek Outdoor Recreation Area
offers 18 miles of hiking with a good variety of lengths and difficulty levels. You
can swim at Blue Hole, which is an easy flat half mile walk through the woods from
parking, or at the busier Garnettsville Picnic Area where we saw lots of families
hanging out having a great time, grilling,
playing games they brought with them like ping pong, corn hole, and cards, as
well as some adults hanging out farther down the creek, many of which bought
portable chairs to just sit in the water to cool off from the summer heat. The
water here has a great little current on a couple of sections right by parking
lot and several people enjoyed those in inflatable tubes, so plan to bring one
to join the fun. Our kiddo had fun just sliding down with his body letting
the current take him, so if you prefer to travel light there is still fun to be
had! If you plan to swim in either place, you may want to use swim shirts for
boys and full swimsuits girls because the rocks can scratch as they gleefully splash
and play. I definitely suggest some sort of swim shoe or swim sock because
you're walking across rocks, but the water felt great even in bare feet.
They sell hunting and fishing licenses on site at the entry gate,
which is a nice convenience. You truly get away from it all here since there is
little to no cell service in many spots. We only saw portable bathrooms
throughout. You will want to have plenty of water, sunscreen & bug spray,
and do tick checks, like in any outdoor area. We brought most food with us because
there are no facilities there
and not much nearby. We stopped at Dodge's Chicken down the road because my
family hasn't had that since moving here. It was a hopping place and smoking is
allowed inside, but there are a couple of tables outside plus a cool chicken
statue for a fun photo opp!
If you want to make your visit longer, the campgrounds looked like
a great option, We drove through to check it out and it looked nicely kept with
plentiful real bathrooms and space. They have a few cabin rentals also. Nearby
you can explore Tioga Falls, one of the best waterfalls we've seen in KY, & Bridges
to the Past trails, as well as Saunders
Springs, all of which we enjoyed on a
previous outing. For even more to do in the area, visit Radcliffe & Ft. Knox Tourism.
If you get a chance to visit this place, be sure to visit their Facebook page and Twitter feed to see what extras
might be happening, as well as to leave a review so you can help spread the
word. Check out
their site for more information and
regulations. According to their website, the
Kentucky Department of Fish and Wildlife Resources receives no money from the
state's general fund, so they rely on support from Sportsmen & Sportswomen
and donations via the Kentucky state income tax check off to the Nature and
Wildlife Fund. I imagine it also helps when you pay the entry or usage fees at
great sites like this, so have fantastic family fun while keeping our wild
spaces open for adventure!
Angela