This Weekend Free or Cheap – September 7, 8, and 9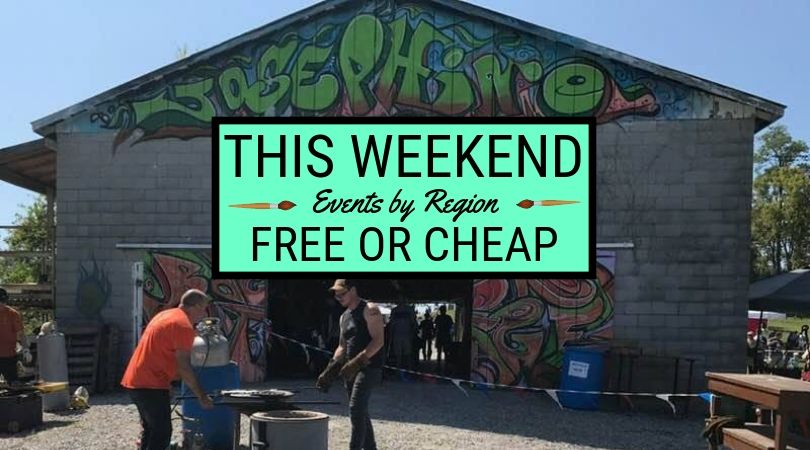 Here are a few experiences we would suggest if your family wants to have fun without breaking the bank this weekend.
Western Ketucky | 2018 Murray Ice Cream Festival

What: Ice Cream Festival, need I say more? All you can eat ice cream friends, for $5.
Where: Court Square Downtown Murray
When: Friday, 7 from 5pm to 8pm. Event also on Saturday but with a different cost.
What Will There Be to Do: Inflatables, bungee jumping and other activities. Live music from 6-8pm. Free screening of Lego Batman movie at 8pm.
What to Bring: Bring your hungry bellies and comfortable lawn chairs.
Central Kentucky | Josephine Sculpture Park Fall Arts Festival
What: An experiential Art Festival for those who have no experience making art.
Where: 3355 Lawrenceburg Rd. Frankfort
When: Sunday, 9 from 11am – 6pm
Where to Start: Admission is FREE but parking is $5, the more the merrier (allowing for a 1:1 ratio, people to seatbelts, of course). That includes buses.
What Will There Be to Do: Meet and create with guest artists. Throw clay pots, play instruments, print art, make paper, experiment with tie dye (hint, bring your own shirt to tie-dye), make stickers, and immerse yourself in sea of bubbles, jam to live music and more.

What to Bring: We strongly encourage you to bring a wagon or large wheeled stroller for some off-roading. Dress your kids in play clothes so they can get dirty.
Metro Louisville | Big Four Bridge Art Festival
What: A FREE Festival of 180+ Juried artists featuring international cuisine, art activities, and entertainment.
Where:1101 River Road Louisville in the heart of downtown
When: Saturday, 8 from 10am – 7pm | Sunday, 9 from 10am – 5pm
Where to Start: Parking is ample along the river road and transportation to the venue is provided by a trolley. You can also walk through the park.
What Will There Be to Do: Pet pink llamas and angora rabbits among other animals. There will be paint and drawing stations along with collaborative art projects. Children will leave with their own painted rocks.
What to Bring: Wear your walking shoes, cover yourself in sunscreen, pack your water bottles and pull/push your favorite kid-friendly carrier.
Eastern Kentucky | Kids Fest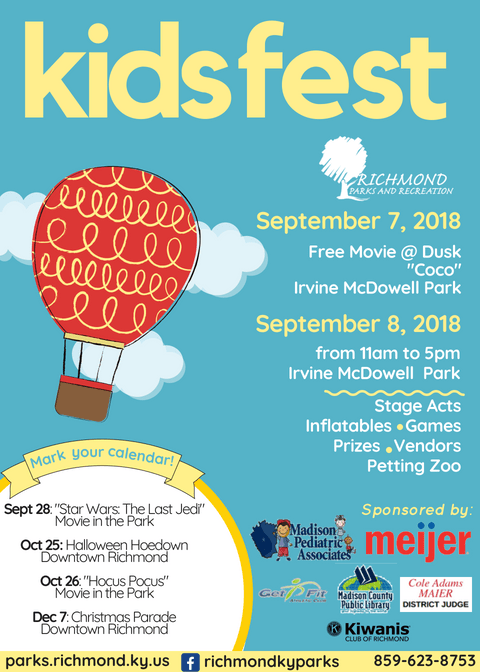 What: The largest FREE public festival specifically for children 12 and under in Richmond.
Where: Irvine McDowell Park
When: Saturday, 8 from 11am – 5pm
What Will There Be to Do: Activities include vendors, inflatables, a petting zoo, games with prizes, entertainment and other festive attractions.
What to Bring: Does your child love Disney characters? Heads up there will be Disney Princesses on-site for meet and greets.


Nicole