Thomas Dairy Farm and Market
Thomas Dairy Farm and Market in Cecilia, Kentucky offers pumpkin picking, hayrides, an awesome corn maze, a giant jump pad, nighttime zombie paintball, and more.
Here is all of the information you need to know about Thomas Dairy Farm and Market, just outside of Elizabethtown. Also, here's a review by Louisville Family Fun. 
Hours (may have changed):
Saturday, September 16th- Saturday, November 4th
SUNDAY 11 AM-6PM
MONDAY-THURSDAY 10 AM-6PM  
FRIDAY-SATURDAY 10 AM-6PM UNTIL September 29th (nighttime attractions and extended hours begin)

LAST HAYRIDE: 5:30PM DAILY
Opening day daytime- September  16th
Opening day for Zombie Paintball- September 29th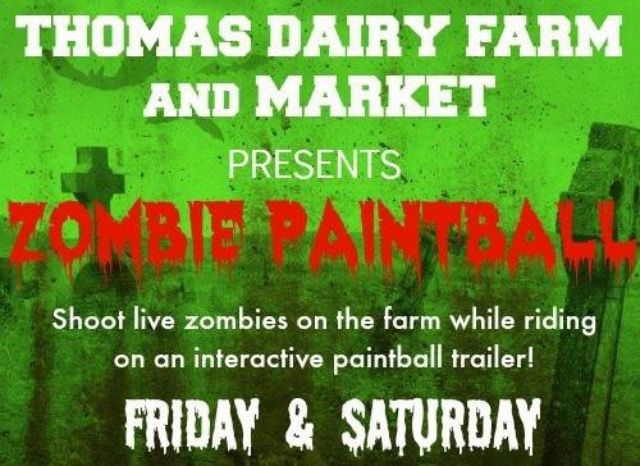 Prices/times/attractions subject to change
Daytime Attractions: Walker T's fun zone with new barnyard games, mega slides, corn pit, hayride to the pumpkin patch, 8 acre corn maze, 2 acre kiddie corn maze, tot spot, animal farm, concessions and more!
DELUXE DAYTIME ADMISSION: This admission option includes EVERYTHING there is to do during the daytime at the farm. General + jump pad + paintball shoot + premium gem mining bag $27/person
General Admission: $10/person. Children 2 years old and under are free! Incudes corn pit, mega slides, two corn mazes, animal farm, sunflower maze (blooms around 1st week in October weather pending), hayride to the pumpkin patch, fun zone, barnyard games and unlimited jump pad access
The 1 acre sunflower maze is the perfect place for a family photo! This is included with admission.
The jump pad is suitable for all ages. The jump pad will be open on Saturday (10 am-6:30 pm) and Sunday (12 pm-6 pm). 
Daytime paintball admission- Daytime paintball shoot is back! Guest will get 60 paintballs to shoot at various targets and test out their marksman skills! This is available on Saturdays and Sundays only. admission includes general + jump pad admission + paintball shoot: $17
ZOMBIE PAINTBALL HAYRIDE: The zombie invasion has begun! Come out for a one of a kind experience on the hayride paintball trailer! This year's theme is the "Wild, Wild West" featuring a new course and even more live zombies! Suitable for all ages! Wheelchair and handicap accessible
$20/person including 125 paintballs, Walker T's fun zone, mega slides, animal farm, flashlight corn maze, bonfire

GEM MINING!: Gem mining adventure! Four different mining bags this year ranging from $4-$9/bag unique finds include seashells, arrowheads, fossils, fool's gold, quartz and more!
Gem mining admission – admission includes everything from general + jump pad admission + a premium bag of gems: $20/person