Visiting Big Bone Lick State Park
Visit Big Bone Lick State Historic Site
What do you need to know before heading to Big Bone Lick State Historic Site?
When they were younger, my kids were totally OBSESSED with dinosaurs and fossils and paleontology. The older two (9 and 8) may act like they've outgrown the whole dino craze, but the fact is you never outgrow skulls as big as your whole body! When I saw Big Bone Lick State Historic Site with pictures of bison and a mastodon skull, I knew we had to go.
Located in Union, Kentucky, BBL is about 1.5 hours northeast of Louisville, just over an hour north of Lexington, and about 35 minutes southwest of Cincinnati. BBL is very easy to find once you get off the main interstate but check your GPS for your exit because there's no interstate signage.
My kids got excited as soon as they saw the big entrance sign with picture of bison and mammoths. We went straight back to the outdoor diorama and the museum. While you aren't able to touch or access them directly, the life sized replicas are really cool and the walkway above serves as a place for photo ops and also has several educational plaques.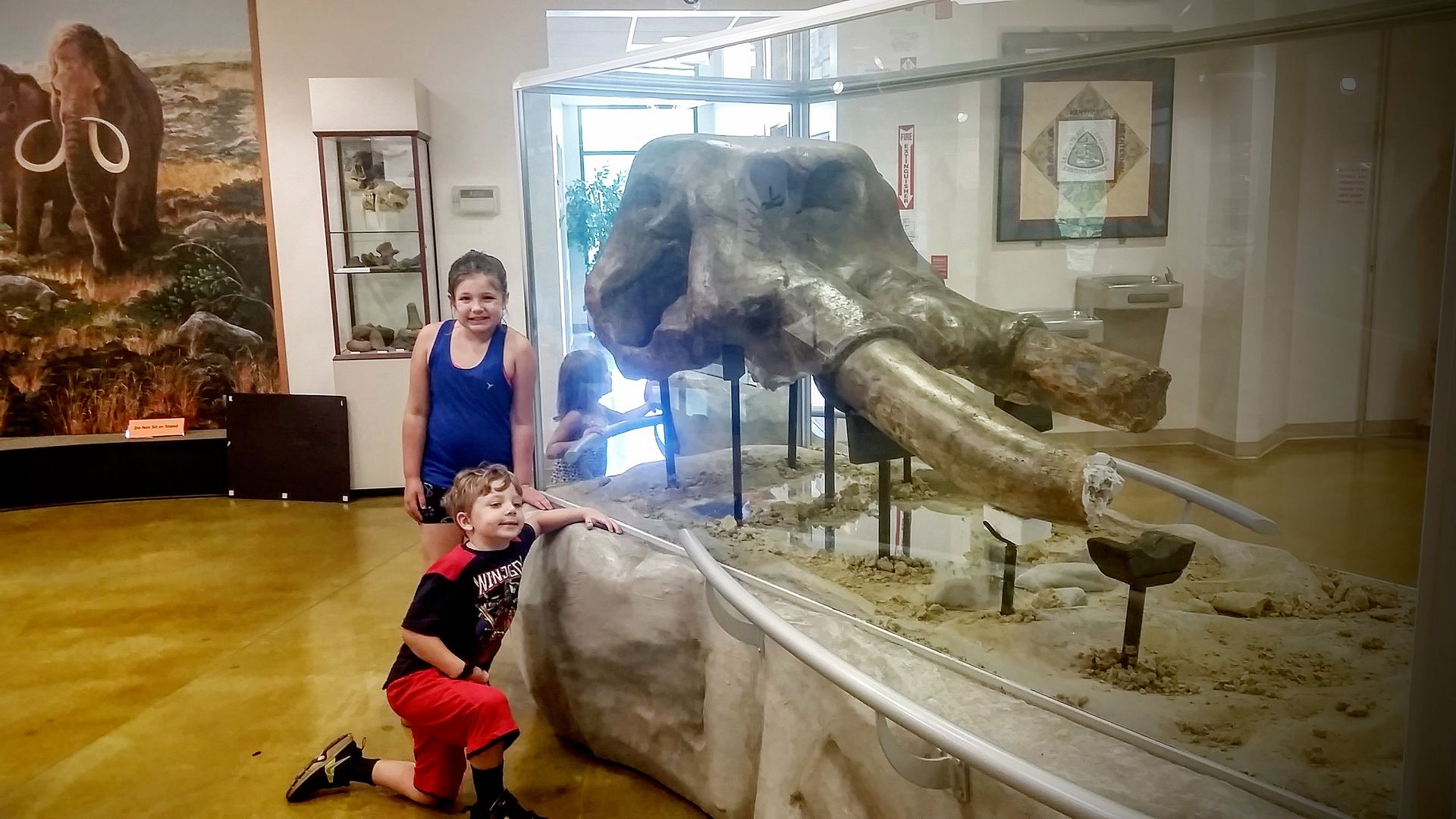 The museum has a large (air conditioned!!!) room with a mastodon skull as the focal point. There are several other fossils, historical references, restrooms, and a gift shop. Typically I cringe when I hear "gift shop" because I hate being asked to buy a $25 stuffed animal that I've seen at the dollar store – just without a logo. However, this gift shop is very reasonably priced and if your kids like getting souvenirs, you won't break the bank.
From the museum/gift shop we headed across the parking lot to a trail to see the bison. The trail to go see the bison is less than a quarter of a mile and if you have little legs with you or even a sturdy stroller, it's an easy walk. The trails in the woods are more difficult for toddler legs and impassable for a stroller. The first trail we started with was called Cedar Run. Five minutes in and were totally surrounded by untouched nature in all her splendor. Due to the narrow width, single file walking is a must – so pick a line leader.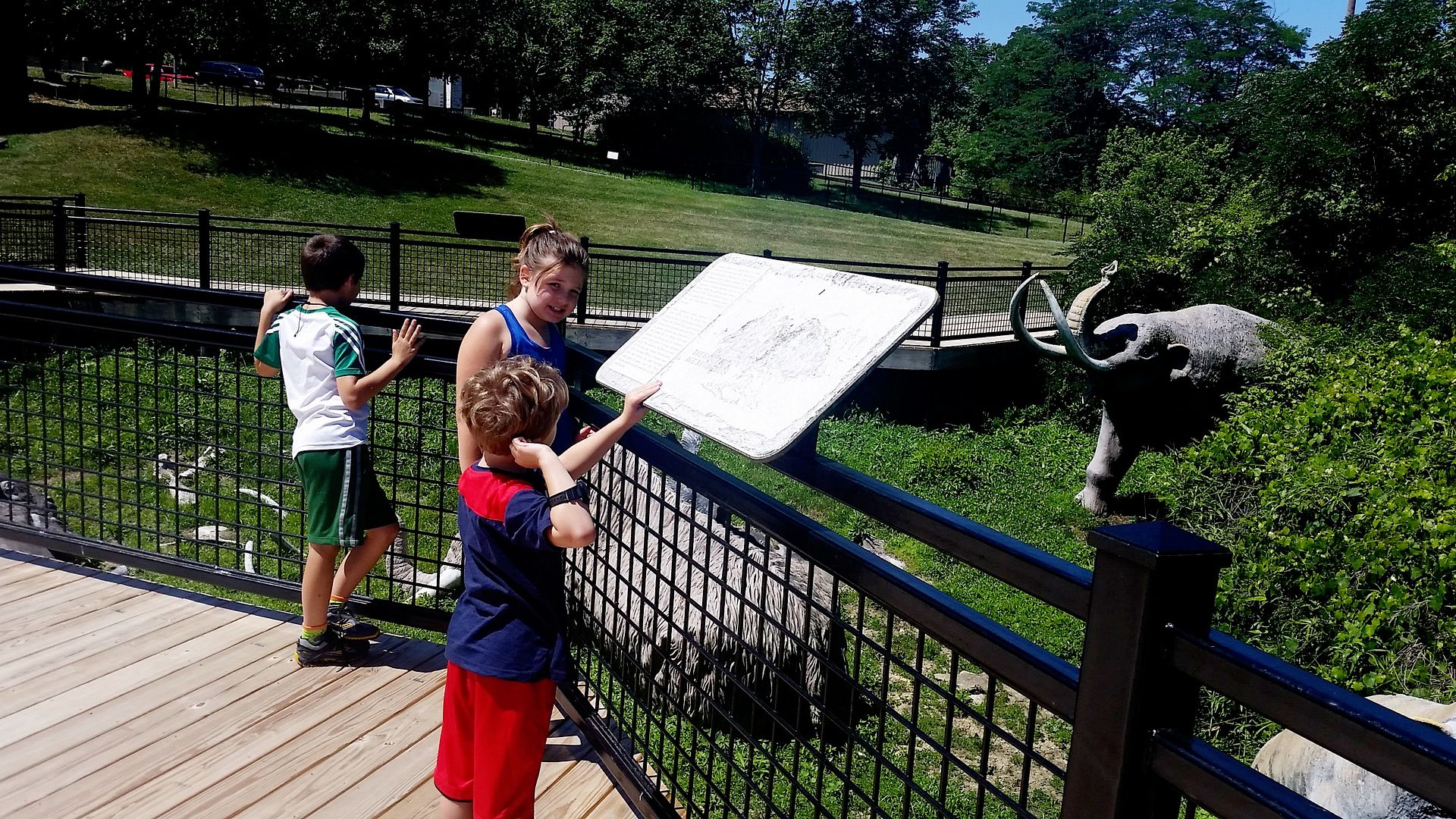 We took the longer trail around the woods instead of heading straight back to the museum and ended up hiking around two miles. We did have to stop and take some water breaks after some steep inclines and I had to keep reminding my kids to watch their footing on the sharp descents, but minus some huffing and puffing, we all made it just find – including my active five year old.
After a quick bathroom stop in the museum, we drove to the lake parking lot (which only has around 8 parking spaces) then hiked up some terrain steps to the lake at the top – another beautiful nature view with plenty of benches to relax. There is another two mile trail looped around the lake, but my folks were done with trails at that point! We also drove up to the campsite, which has mini-golf, a small camp store, and a pool for the campers.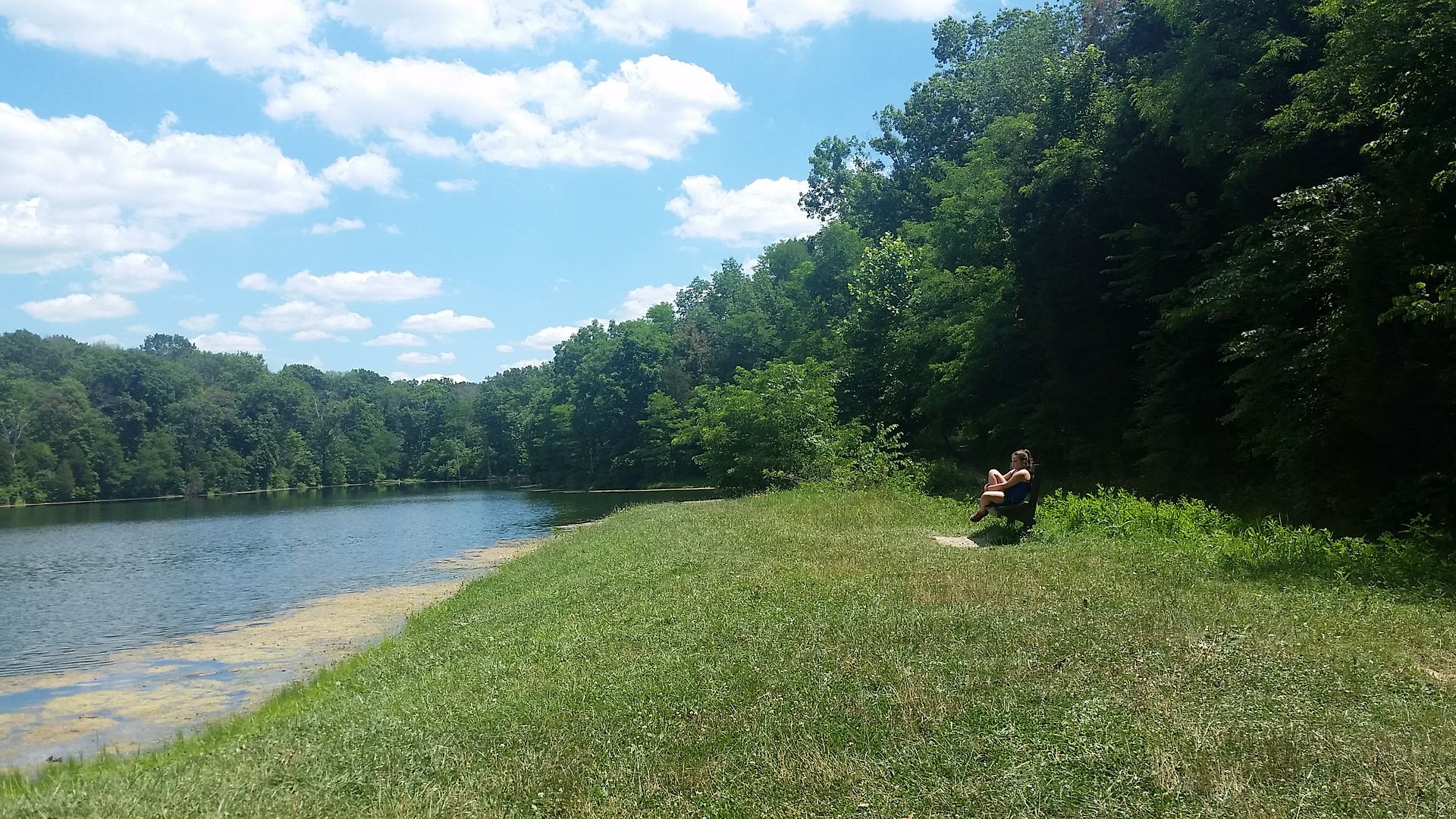 All in all, we had a very fun and full day. When we stopped at the museum/ visitor center, there were several fliers about upcoming events – most of which were free. There are also educational scavenger hunts to make things even more interesting for older kids. Big Bone Lick State Historic Site has 813 acres with 40 acres of picnic grounds, a pavilion with more restrooms, 2 playgrounds and a 62-site campground with electricity, water, grills, bathhouse, and a pool.
Just one word of caution, there is NO cell service at the park – at least my AT&T phone didn't pick up service until we were back towards the highway.
Click here for more ideas about exploring the Northern area of Kentucky