Let's Go Get Ice Cream Kentucky
Looking to beat the heat? Take a road trip and find your "new" favorite uniquely Kentucky ice cream destination.
We tend to celebrate birthdays with ice cream instead of cake.
Eastern Kentucky
Super Hero Creamery & T-shirt Factory | 216 15th St. Ashland | 530.507.8737
Comics and ice cream in one place! We haven't been yet, but you can bet we are planning to go soon. I just have a feeling we will be leaving with new fandom gear.

The Twin | 63 River Dr. Irvine | 606-723-5623
This little ice cream stop is a bit out of the way but it is a must stop for our family each summer as we make our way to and from summer camp at Aldersgate.
Dorsie's Dairy Bar | 667 Bypass Rd. Pikeville | 606.432.2270
Footlong hotdogs and peanut butter milkshakes, oh my! This business transports me to my childhood.
Mad Scoops | 330 Eastern Bypass, Suite 3 Richmond | 859.623.2500
Cookie Monster Ice Cream? Red Velvet? This Kentucky Proud business specializes in custom and seasonally unique flavors.
Central Kentucky
Bertie's Ice Cream | 310 S. Main St. Brownsville | 270.597.3586
A great place to stop for a break when cruising through the area. Considered a landmark by many Brownsville natives.
Burgin Dairy Barn | 500 E. Main St. Burgin | 859.748.2276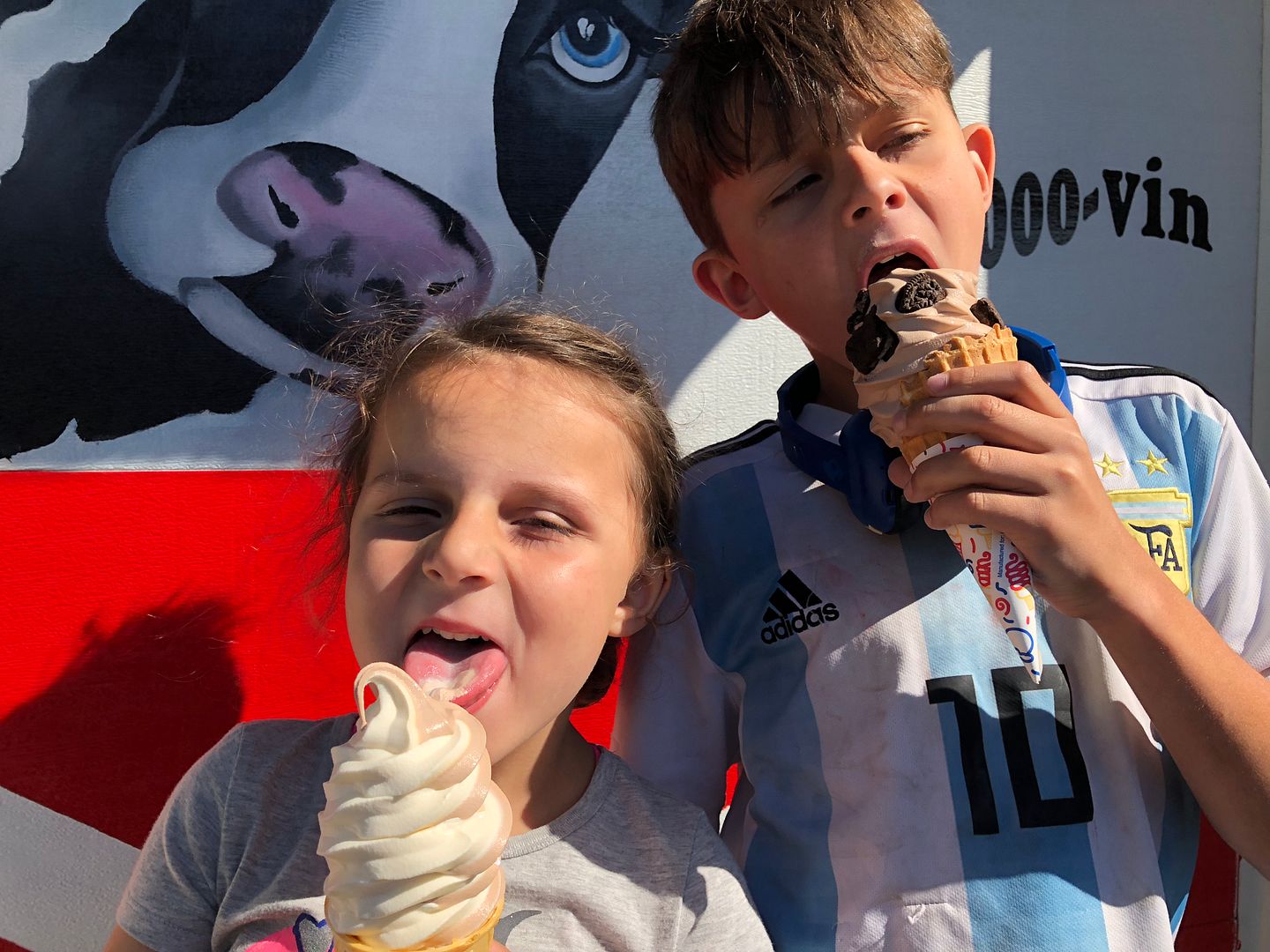 Moove on over to the Burgin Dairy Barn.
Heading to Shaker Village of Pleasant Hill? Perhaps you are going boating on Herrington Lake? You will not be disappointed if you make a detour here. Our favorite Burgin Dairy Barn treat is their salted caramel milkshakes, but honestly, you can't go wrong with anything.
Kentucky Fudge Company | 225 S. Main St. Harrodsburg | 859.733.0088
Looking for the atmosphere of an old school drug store and soda shop? This spot is a perfect destination to go back in time to eat a hamburger and enjoy a root beer float.
A Kentucky Family Fun Favorite – Recommended by our readers!
The Sweet Shoppe | 100 South Lincoln Blvd. Hodgenville | 270.358.0424
You definitely go there for the ice cream but you leave with fudge. This family-owned business is a definite stopover for anyone traveling through the area. We highly recommend their banana splits but their most popular ice cream flavors are butter pecan and superman.
Sav's Chill | 289 S. Limestone Lexington | 859.255.2445
Are you looking for traditional vanilla and chocolate or hoping to surprise your taste buds with something different? Make a trip to Sav's and try their spicy banana ice cream.
Crank and Boom | Several locations in Lexington | Contact them here.
A splurge that must be done. Try their coconut ice cream to start at the beginning of their story but we recommend getting a sampler flight of 4 ice creams to share as a family. Our family favorites are blackberry & buttermilk, blueberry lime cheesecake, banana chocolate and fresh strawberry.
The Arctic Scoop | 841 S. Hurstbourne Pkwy Louisville | 502.409.6602
Want to have creative control over your ice cream flavor? Looking for an experience that will entertain your kiddos? Head to Hurstbourne Parkway in Louisville. Read our review!
Comfy Cow | Several locations in Louisville
Comfy Cow has something for everyone.
There are so many reasons to love Comfy Cow. There is literally something for everyone. Have a gluten intolerance? No problem. Cutting down on carbs? They got ya! Looking to celebrate someone's birthday with a highly memorable treat. You won't be disappointed.
Ehrler's | 1330 Belmar Dr. Louisville | 502.749.2236
Folks, this ice cream shop started as a dairy 150+ years ago. That is amazing! Visit their physical shop or look out for their ice cream truck at an event near you.
Dairy Kastle | 575 Eastern Parkway Louisville | 502.634.8990
Not from Louisville? Looking to get a taste of life as a Louisvillian? Don't miss a lazy summer evening trying to find a place to park at this busy dessert hub.
Sweet Tooth | 125 W. 11th St. Newport | 859.581.6763
A traditional Ice Cream Parlor still going strong.
Eckert's-Boyd Orchard
Eckert's-Boyd Orchard | 1396 Pinckard Pike Versailles | 800.745.0513
Looking for a place where kids can play while they eat ice cream? Eckert's KIDS CORRAL is open all summer long for free!
Looking for other suggestions in Louisville? Head on over to Louisvillefamilyfun.net
Other Central Kentucky locations? Visit OldhamFamlyFun.net
Western Kentucky
Big Dipper | 2820 W. Parrish Ave. Owensboro | 270.684.4806
This spot holds a lot of memories for many residents of Owensboro. The shakes and malts are highly recommended.
Lic's Deli and Ice Cream | Several locations in Owensboro
Lic's or (Loyd's Ice Cream Shop) has been a Owensboro destination since 1950 and ice cream is at the center of their business.
Ritzy's | 4925 Frederican St. Owensboro | 270.691.9195
Try their homemade butter pecan cashew ice cream is made right in the store.
Chaney's Dairy Barn | 9191 Nashville Rd. Bowling Green | 270.843.5567
Don't miss their Ice Cream & a Moovie nights and other events.
Kentucky "Ice Cream" Events
Riverside Ice Cream Social | 7410 Moorman Rd. Louisville | 502.935.6809
Watch an1860s style baseball game and magic shows. Event ice cream provided by Ehrler's ice cream.
Kentucky State Fair | August 16-26
Make a point to try Newton's Homemade Ice Cream. It is made with a John Deere hit-and-miss engine. Try any of the following flavors: vanilla, chocolate, banana, strawberry, peach, and pineapple.
Nicole