The Parklands of Floyds Fork – East Louisville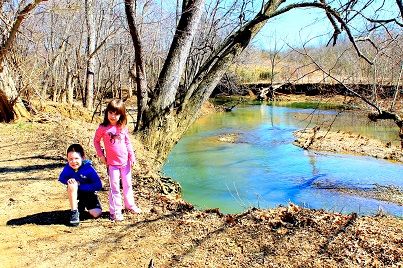 The Parklands of Floyds Fork is a large park system in East Louisville. When it is completed in 2015, it will include five separate but connected parks that will comprise a quarter of the Louisville Loop. There are hiking and biking trails, grasslands and wetlands, canoeing and fishing spots, a dog park, and playgrounds and spraygrounds.
This is my family's go-to spot for after work and weekend hiking. It's close by, clean, and has excellent facilities, and it seems to have new hiking trails every time we go. We usually start off near the water fountain at Beckley Creek Park. Depending on whether we're hiking or biking, we usually pick a different trail to explore every time we go.
The last time we were there we stuck mainly to footpaths through the wooded areas. It was nice and shady, and there was a little path leading to the creek where we played in the water for quite some time. My dog especially loved wading into the creek and laying down to cool off after our hike.
Take a look at the map before you head to The Parklands so you can choose the right path for what you want to do. The concrete paths are great for bicycles and scooters, and they go for miles and miles. There are over a hundred miles of paths, according to the website. The softer gravel trails are great for hiking, and these are predominately the ones that go through the wooded and prairie areas.
One of my family's favorite places to hike is to the train trestle in Pope Lick Park. Local folklore states there's a creature that is half man and half goat living in that area, so we often take the kids out to search for him.
If you haven't been to this brand new parks system yet, be sure to check it out soon. There's so much to explore that you're sure not to get bored.
By Maggie
courtesy of LouisvilleFamilyFun.net