Unique trick-or-treat opportunity in Louisville from Louisville Water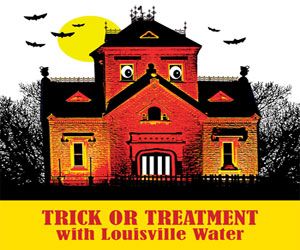 On October 26th from 4:00pm to 7:30pm the candy-hungry ghouls and goblins can head to the Crescent Hill reservoir gatehouse for a unique trick-or-treating event. This is such a cool location for an event!
This event includes a plant tour, fun prizes, fun science experiments and snacks. There will be a
Healthy Zombie Walk around the Reservoir with activity stations for the kids. If you haven't been, the area has a flat, elevated path around the reservoir and it's really quite lovely and picturesque with the historic gatehouse in the middle.
This is a family event so children must be accompanied by an adult. There is free parking available along Reservoir Avenue.
Here's a photo of the location:
Location: near 201 Reservoir Avenue
Louisville, KY 40206