Review of Annual Beer Cheese Festival in Winchester, KY
The Winchester/Clark County Beer Cheese Festival returns on Friday, June 11, 2022 to downtown Winchester, KY
Being big fans of one of many great Kentucky creations, the unique deliciousness that is beer cheese, we were so excited to find out there is an entire Beer Cheese Festival celebrating it where you can sample all you want for a flat fee! We found Winchester, KY easy to navigate and appreciated its small town feel in a well-kept historic downtown. We parked for free at funeral home that had signs inviting cars to do so. We also noticed free parking available at the Bluegrass Heritage Museum and some on street.

You can enter the festival area from several spots, with two main ones opposite each other. You start with the free to enter section featuring all sorts of vendors before and around the pay to enter section. There was a great variety of these ranging from Kentucky Proud items, crafts & artisans, jewelry, woodworking, clothing, direct sales companies, political, community, and businesses. There were several farmer market offerings including lots of samples, homemade jellies, candy, barbecue sauce, hot sauce, spice mixes, and more, so bring a good size bag to shop and maybe a cooler for beer cheese, produce, or meat. We also noticed what looked to be a motorcycle and off-road vendor off to one side street. Several commercial beer cheese vendors had merchandise like t-shirts and cozy with their logos for sale and some vendors in the free section gave away freebies including water or sold refreshingly cold bottles of another Winchester original, Ale-8, for just a dollar!

When you get to the star of the show, Beer Cheese Boulevard, you pay $5 cash each for a wristband and voting ticket, then follow a line down and around to just under 10 commercial vendors, most offering more than one kind of beer cheese with crackers, pretzels, and one also offered carrots or celery. We had such fun sampling and found it hard to choose just one top favorite each!

The free part of the festival had a small food court option, mostly typical festival food and at least one had beer cheese themed offerings. There was also a small beer garden area and a few places selling ice cream or other cold treats. We got so full from tasting beer cheese plus various samples from vendors in the free areas, that we didn't end up buying lunch after all. We bought ice cream and fresh squeezed lemonade, which offered regular and sugar free options. There was live music in at least two areas and a DJ at the courthouse who played family friendly songs from a variety of decades.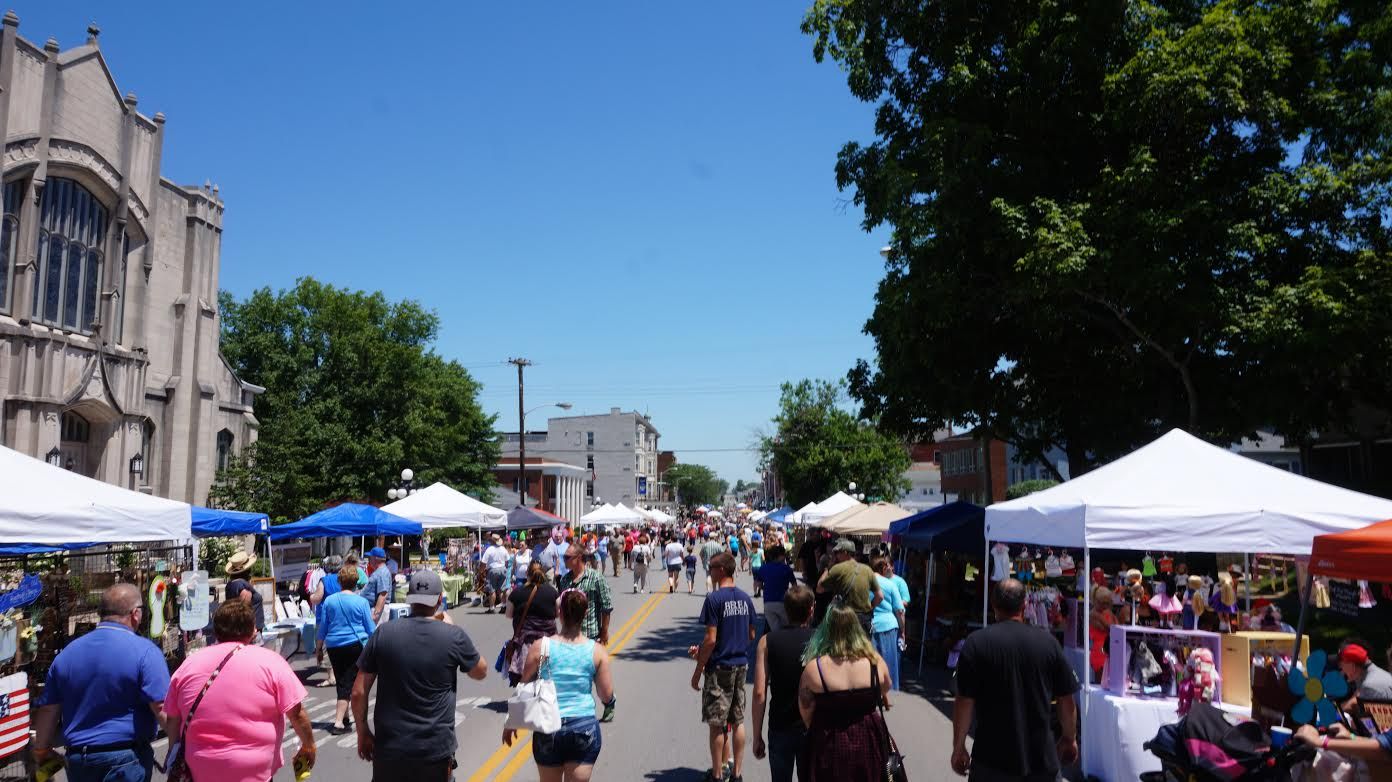 The whole event felt family friendly except, understandably, the beer garden, and that there wasn't any designated smoking or no-smoking areas. Everything is pretty spread out so even though well attended it didn't feel shoulder to shoulder crowded. Waiting in line for the beer cheese samples moved along at a decent place and chatting with fellow beer cheese lovers was a great way to pass the time. The vendors were personable and very nice to our child. We noticed an inflatable and some sort of swing and other rides off to one or two side streets, but didn't venture farther to check that part out more because our kiddo was quite happy already. The festival had outstanding directional signage, which made it easy to get around. We saw a good amount of police officers so felt even more secure than we already did with the friendly atmosphere.

The crowd started to thin around 2:30 pm on Beer Cheese Blvd. compared to when we arrived around 12:30 pm. We stayed until about 3:15 pm, so just under three hours total including lots of meandering. This was a terrific way to experience a Kentucky original as a family. If you want to stretch out your day or make a weekend of it, the tour at Blackfish Bison Ranch was an awesome way to begin the day. Call ahead to reserve your spots and confirm current times, which was Saturday morning only when we went. We also stopped by the historic Civil War Fort at Boonesboro which has a neat Kentucky River mural in the parking area, and found another quick spot to see the Kentucky River and some of the old stone fences nearby. The Ale-8-One Factory offers free tours, currently only Thursdays and Fridays, so a great way to make a weekend of it would be to drive there for Ale-8 tour Friday morning, visit Fort Boonesborough State Park afterwards, stay overnight, visit the Blackfish Bison Ranch Saturday morning, and then finish off the weekend perfectly at the Beer Cheese Festival. Other nearby attractions can be found at Tour Winchester, including a Beer Cheese Trail. The Beer Cheese Festival is held annually on the second Saturday in June, so mark your calendars and plan to have a great time enjoying all of the yummy beer cheese- just be sure you save some for us!